Jason Savath: Best of Web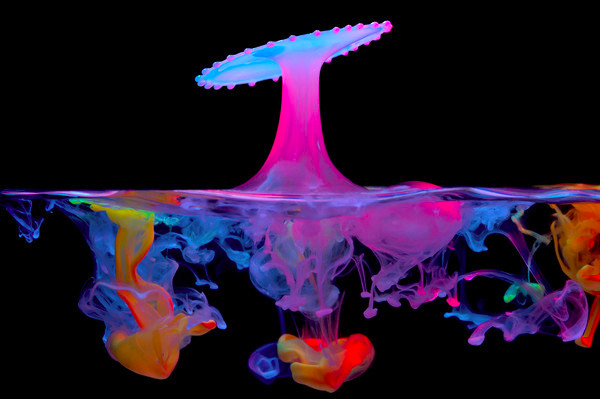 This magnificent water drop art was produced by Patricia Ramos and photographed by Corrie White. The droplets were done using a medicine dropper filled with colored soap, water, and milk. For the human eye, it would be nearly impossible to witness the beauty of droplets hitting the surface of the water. With perfect timing, the work of art can be frozen in time.
As the droplets hit the water, the clouds interacts with the water in accordance to it's fluid properties. Each drop is unique and varies vastly depending on the droplet substance. The droplets enter the water at high speeds and creates pockets of air behind it and results in the mushroom cloud effect underwater. If the air pockets are bigger, the water will be forced upwards creating a splash of art above the water line. The vibrant colors produced are the results of astounding color and lighting choices.
Gallery Link: http://www.exposureguide.com/inspiration/magnificent-examples-of-water-drop-photography-by-corrie-white/