Matt Beckemeier: Best of Web 2016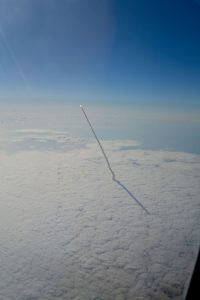 This photo was taken by a NASA shuttle training aircraft of the STS-134 mission (Endeavour).
What I find interesting about this picture is how the intact contrail from the space shuttle penetrates the cloudy sky seamlessly. I grew up in Central Florida and have seen dozens of space shuttles and rocket launches but never from this unique angle. From the ground, the exhaust is chaotic and in all directions before leaving the tower but above the clouds you can see a nice, clean trail that is hidden from everyone watching below.