Daniel Bateman: Best of Web 2016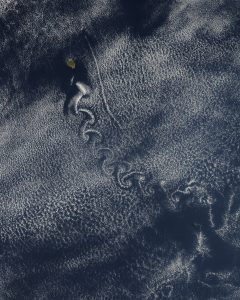 The above image shows a the formation of a von Karman vortex street behind the Isla Socorro, a volcanic island in the Pacific. The image was captured in natural color on May 22, 2013 by MODIS (Moderate Resolution Image Spectrodiometer) on NASA's Aqua satellite. A von Karman vortex street is a repeating pattern of vorticies shed off of a blunt body at relativly low Reynolds numbers. The image shows the vorticies forming,  advecting downstream and interacting, and beginning to dissipate.
I find the image striking for two reasons. Firstly, von Karman vorticies are distinct and organized, unlike many flows where wakes are turbulent and chaotic. Second is the scale of the image. The effect shown can be demonstrated in wind tunnels, and is taken into account when designing structures such as smoke stacks and skyscrapers, but the image shows the effect on a truly massive scale. The image, being taken from space and shown through the flow interacting with the clouds shows the flow in a way that can rarely if ever be observed by a person on the ground.
Photo Credit:  Jeff Schmaltz, LANCE/EOSDIS MODIS Rapid Response Team at NASA GSFC